06.09.2018
Huge demand for Hobby at Caravan Salon 2018 in Düsseldorf
Hobby has got the 2019 caravanning season off to a successful start. The Caravan Salon in Düsseldorf, the world's largest motorhome and caravan trade fair, is closing with a record number of visitors.The revamped Hobby VANTANA range of vans and the mobile on-board control system using the HobbyConnect app were very well received by the general public in particular.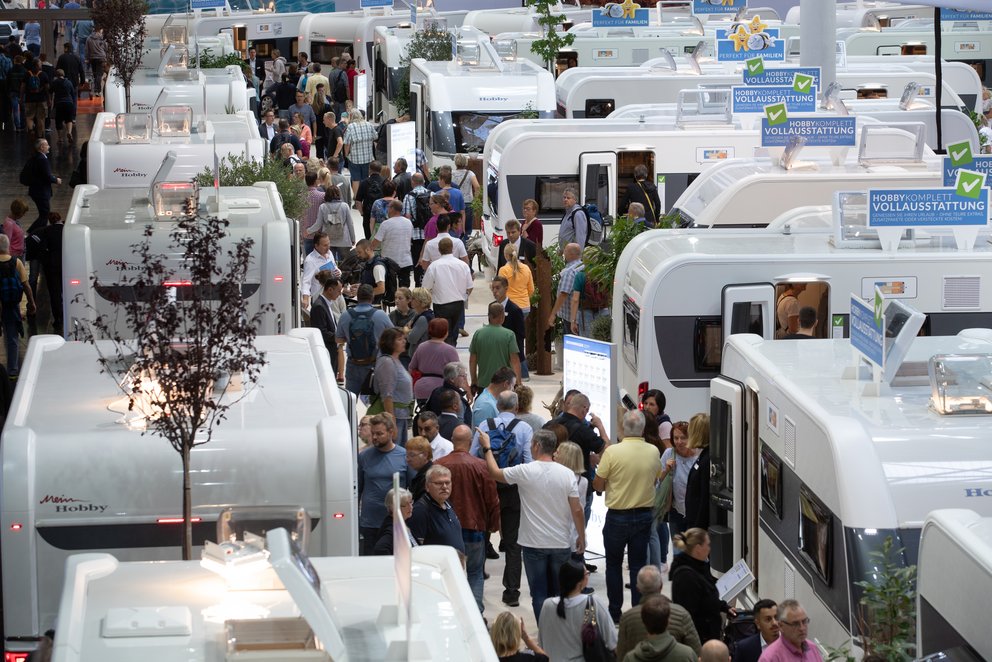 Both of Hobby's exhibition stands at the Caravan Salon in Düsseldorf attracted thousands of visitors from dawn to dusk – whether seasoned campers or complete novices. In Hall 9 and Hall 15, the public got the opportunity to look over all of the latest products as well as classic Hobby caravans, motorhomes and vans with a fine-tooth comb. "The caravanning industry is booming – with 247,000 visitors, it's no surprise that it was the most popular Caravan Salon of all time. We're extremely pleased with our sales. And we're delighted that we were also able to win over lots of newcomers to camping with our products," says Hobby Managing Director Holger Schulz.
In terms of our caravans, the two popular "De Luxe" and "Excellent" model ranges were a hit once again in particular. They are the brand's most comprehensive ranges, with each offering a selection of thirteen models, leaving camping enthusiasts with nothing to desire. The new Hobby "Prestige" caters for people with more discerning requirements. Its new back section is particularly eye-catching with the distinctive edge trims, chrome manoeuvring handles and stylish tail lamps.
The VANTANA van – available in three different models for the first time – was also very well received by our visitors. "The VANTANA Ontour is one of our highlights from this year's trade fair. Our entry-level model that's ready to hit the road sold incredibly well right from the get-go thanks to its attractive basic price of €39,700," says Holger Schulz.
Using apps to control the on-board systems of Hobby vehicles was another focal point of this year's trade fair.
The HobbyConnect show vehicle was used for daily demonstrations to show how various vehicle functions, such as lighting, heating and air conditioning, can be controlled from outside using a smartphone or tablet. Even Prof. Andreas Pinkwart, Minister of Economic Affairs, Innovation, Digitalisation and Energy of the State of North Rhine-Westphalia, spoke to the two Hobby Managing Directors Michael Striewski and Holger Schulz on the first weekend of the trade fair to find out about the many possibilities offered by HobbyConnect and the MyHobby app. "In this digital world of ours, it's especially important that we exploit the potential in all areas and think about the next generation," enthused the politician.
Further information is available from the Hobby press office:
presse[at]hobby-caravan.de or at www.hobby-caravan.de/en
Download article
Image gallery
All media made available on the press portal may only be used openly/free of charge for press publications in accordance with the press law. Commercial use is generally not permitted. Exceptions to this rule require the express written permission of Hobby Wohnwagenwerk Ing. Harald Striewski GmbH.