15.04.2020
Hobby caravan factory resumes production – comprehensive action plan to protect employees
Following a four-week shutdown, the Hobby caravan factory is gradually resuming production. Operations will recommence in certain areas from the 20 April onwards in compliance with strict hygiene regulations. Production, occupational health and senior managers are adopting an extensive package of measures to keep the risk of infection for staff members as low as possible. The works council, local health authorities and national occupational safety authorities are also on board.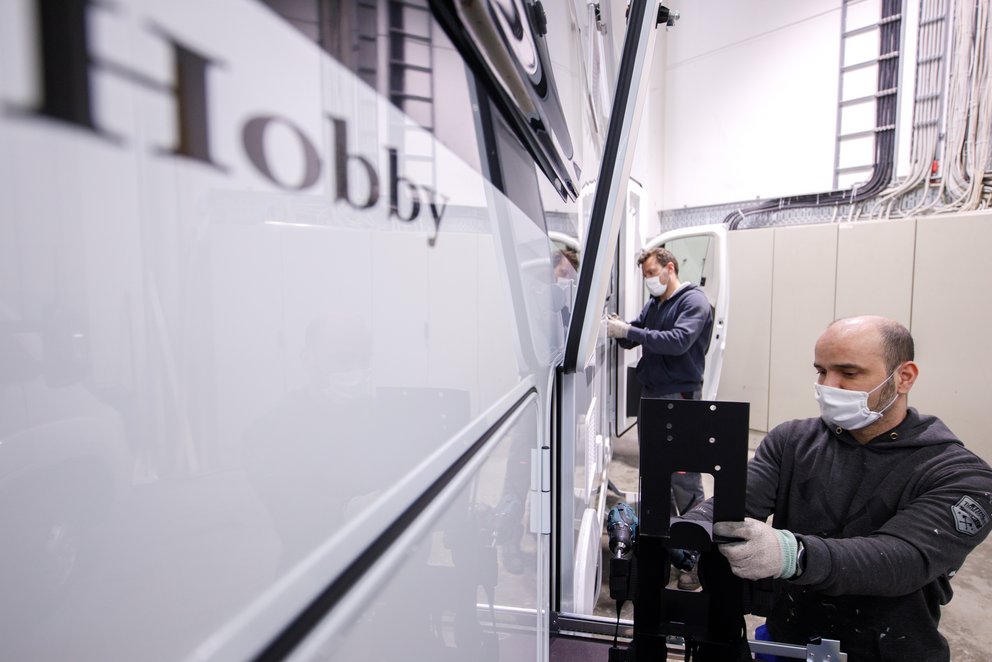 From next week onwards, the north German manufacturer will resume production in key areas of manufacturing. The company has used the time during the production shutdown to introduce strict safety precautions that will provide staff with the best possible protection from becoming infected. "Hygiene Hot Spots", which are equipped with face masks, safety goggles and disinfectants, amongst other things, have been set up in every production hall. Production schedules and processes have been reorganised to enable social distancing measures to be observed, as far as possible. An abundance of protective equipment in critical areas, newly established walking routes and different break times for each department ensure that the company's many employees are able to comply with the rules. Wherever this is not feasible, face masks must be worn.
"Face masks must be worn in washrooms and corridors, for example, when using the time and attendance clocking system, and when working in confined areas in particular. The rules are displayed in prominent locations throughout the company and we will be very vigilant in ensuring that every member of staff complies with the guidelines. We've coordinated the measures we're taking with the local health authorities, and the national occupational safety authorities have already paid a visit to our factory," says Christian Pahl, who is responsible for the Occupational Safety department.
In recent days, Hobby's own sewing department has made face masks for the company's almost 1,200 members of staff itself. Each staff member will be provided with five hygienically packed masks before starting work. The masks have been made in accordance with expert guidelines and can be washed at 60 degrees.
Further information is available from the Hobby press office:
presse[at]hobby-caravan.de or at www.hobby-caravan.de/en

Download article
Image gallery
All image motifs made available on the press portal may only be used openly/free of charge for press publications in accordance with the press law. Commercial use is generally not permitted. Exceptions to this rule require the express written permission of Hobby Wohnwagenwerk Ing. Harald Striewski GmbH.