28.01.2019
Sensational start to the year for Hobby at the CMT in Stuttgart
Hobby's wide range of products went down a storm with visitors to the CMT in Stuttgart once again in 2019, attracting huge crowds of potential customers. The new OPTIMA ONTOUR EDITION motorhome range, which was officially unveiled at the Holiday Exhibition in Stuttgart, was one of the crowd-pullers. Visitors were completely bowled over by the affordable yet fully equipped van.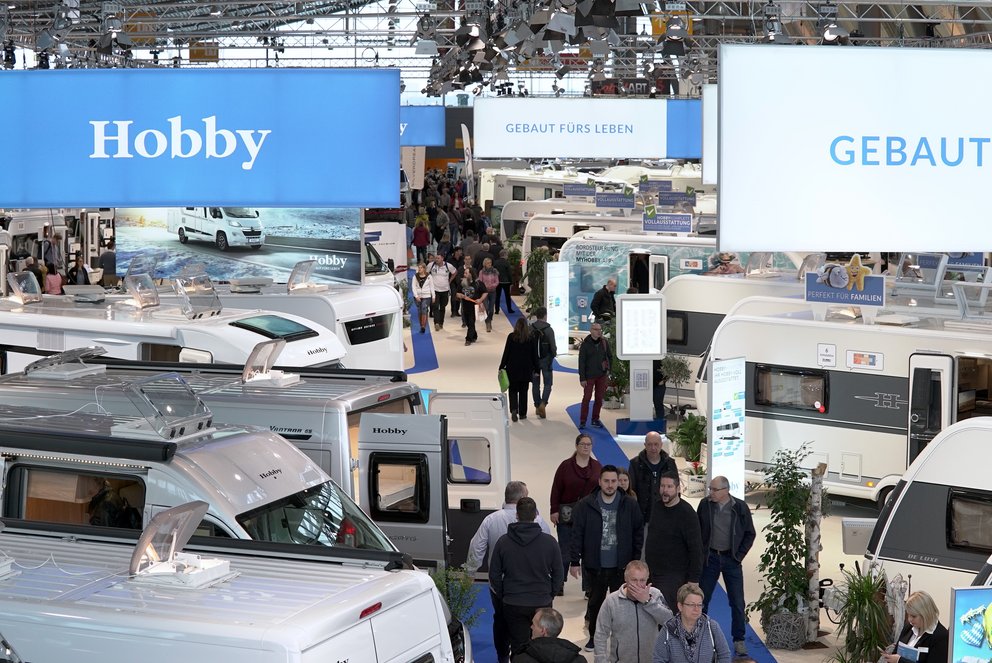 The Hobby brand remains on course for success and is starting the new year full of enthusiasm with a new motorhome range. Europe's largest caravan manufacturer unveiled the new OPTIMA ONTOUR EDITION at the the world's largest leisure and tourism exhibition. The feedback was overwhelmingly positive and large numbers of the two HOBBY VANS – the V65 GE and V65 GF – were ordered from the first day of the exhibition onwards. In particular, the unbeatable final price of 50,600 euros (German price list) for a fully equipped motorhome that's ready to hit the road provided the visitors and dealers with plenty to talk about. "We're overjoyed with the response we've received so far. Our expectations of the OPTIMA ONTOUR EDITION have even been exceeded," says Division Manager Manfred Taedcke.
Next week, the supremely well insulated OPTIMA ONTOUR EDITION will undergo the harsh winter test in northern Norway, where it will be scrutinised down to the smallest detail and made available to the international trade press for test drives in double-digit, sub-zero temperatures.
There was also strong demand among the visitors to the exhibition for Hobby's tried-and-tested caravan and motorhome ranges. The EXCELLENT caravan range in particular was very well received by campers, and the Hobby PREMIUM continues to be extremely popular as well. This has also been confirmed by the CARAVANING readers' poll 2019, which awarded the PREMIUM 1st place in the upper mid-range segment. The DE LUXE EDITION took 2nd place
in the lower mid-range segment.
Hobby will next appear at the ABF exhibition in Hanover, being held from 30 January until
3 February 2019. The new OPTIMA ONTOUR EDITION will be one of the vehicles exhibited at the leisure exhibition in Hanover. Further information is available from the Hobby press office: presse[at]hobby-caravan.de or at www.hobby-caravan.de/en.
Download article
Image gallery
All media made available on the press portal may only be used openly/free of charge for press publications in accordance with the press law. Commercial use is generally not permitted. Exceptions to this rule require the express written permission of Hobby Wohnwagenwerk Ing. Harald Striewski GmbH.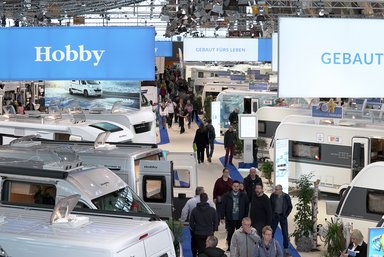 Hobby always attracted alarge number of visitors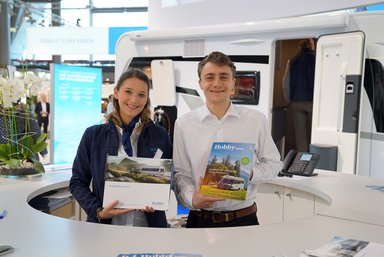 The Hobby exhibition team with the current caravan catalogue and our magazine Hobby heute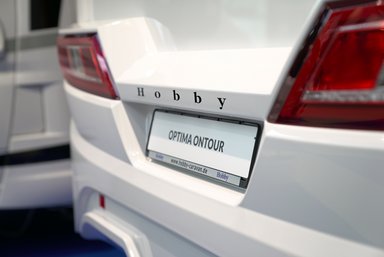 Rear light of the new OPTIMA ONTOUR EDITION