07.07.2021
Launch of Hobby's Beachy met with an amazing response
A myriad of reactions from the international media and campers have exceeded all expectations for the new Hobby brand BEACHY. The intense interest shown by the caravanning press in the exceptional concept from northern Germany has led to an abundance of requests from excited customers, dealers and camping newbies from across Europe. Starting as a small addition to the Hobby caravan portfolio, the entry-level Beachy has become an absolute favourite of the 2022 caravanning season.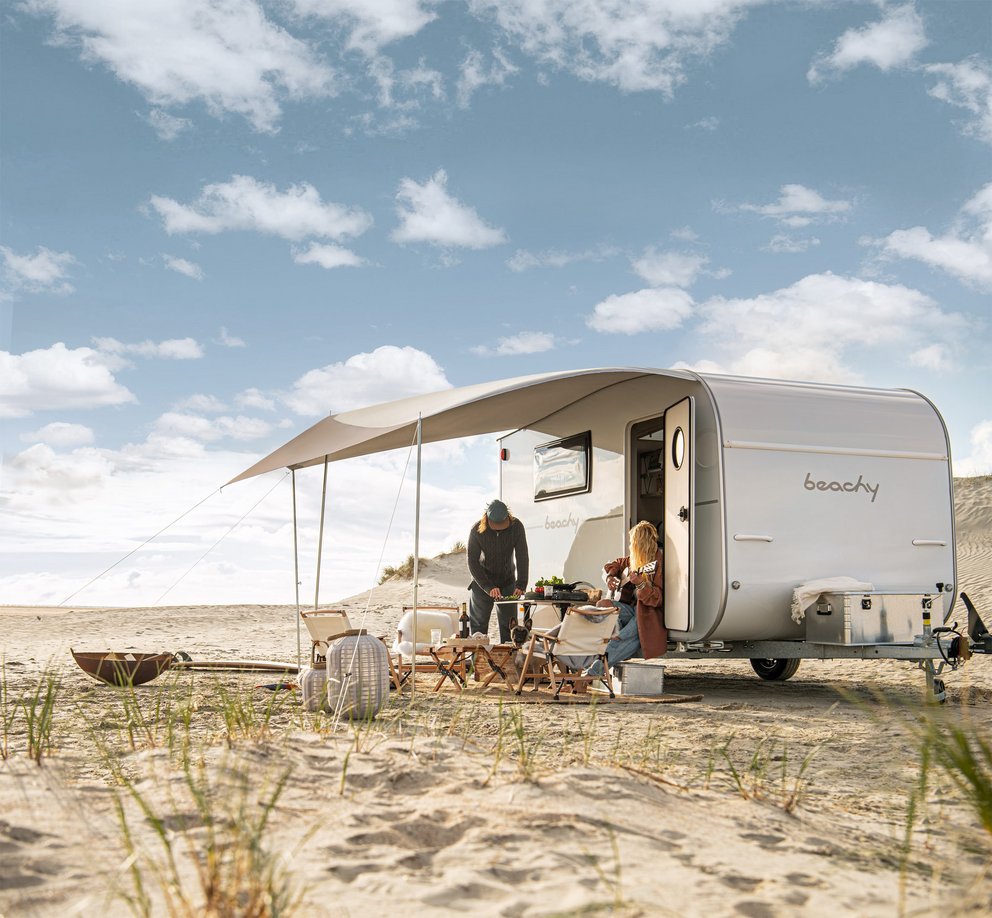 "Finally a seriously cool caravan", "Fantastic idea". "Hobby has never been cooler." "Hobby is awesome." "I'm so in love": the surprisingly emotional responses to a caravan concept created with passion have gone above and beyond even the developers' expectations. With a successful teaser campaign and an innovative making-of video, the story behind Beachy has people just as excited as the caravan itself.
"With the Beachy, we turned what is basically my dream project into reality here at Hobby. I really feel that we could use this kind of product at Hobby. But never in my dreams did I expect customers to be so enthusiastic about the idea. I'm so incredibly proud of what we've turned it into with the Hobby team", said initiator and Hobby CEO Holger Schulz.
The new BEACHY is simple and unique at the same time. The company from northern Germany deliberately opted for pared back features. And the few sceptics in social media have been met with interviews and FAQs from the manufacturer to explain the concept. There's no need to discuss the timeless cosiness of the beloved beach house look, however, as it instantly had everyone on board. The compact caravan is available at an attractive price and will be officially on display for the first time at the Caravan Salon in Düsseldorf (28 August – 5 September).
Learn everything about how the new BEACHY was created in our video at https://www.youtube.com/watch?v=_1E3QIapK_g Further information is available at www.beachy.de/en/ and on our media portal:. https://mediaportal.hobby-caravan.de/en/
Download article
Image gallery
All media made available on the press portal may only be used openly/free of charge for press publications in accordance with the press law. Commercial use is generally not permitted. Exceptions to this rule require the express written permission of Hobby Wohnwagenwerk Ing. Harald Striewski GmbH.